Linemen RESCUE / FALL PREVENTION

(see multiple full slide shows at bottom of page)
Ropes That Rescue (RTR) is a leader in the electrical bulk power delivery (transmission) field. We specialize in tower, substation and mid-span conductor rescue training. This knowledge comes from transmission line experience in T&D which very few training companies can offer. RTR knows power lines and has trained some of the largest utilities in the US. We always say "Training BY linemen, FOR linemen".
Our in-depth, hands on training is broken into three distinct and different areas involving transmission lines:
1) Rope rescue of linemen off of power transmission towers and conductors
Small team structure-based rope rescue
Larger team ground-based rope rescues
2) Fall protection using 100% attachment and rope
3) Rope access for transmission linemen (doing work via rope with written work procedure)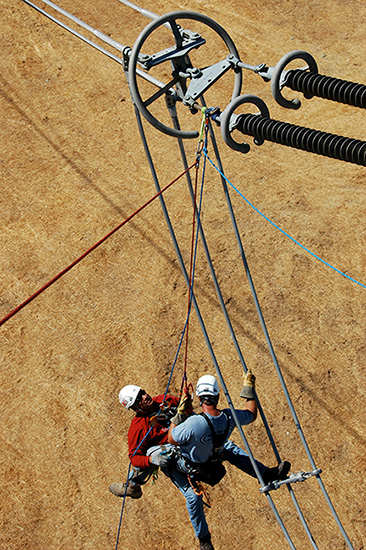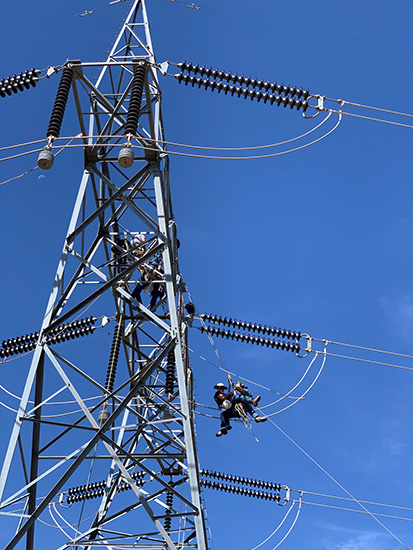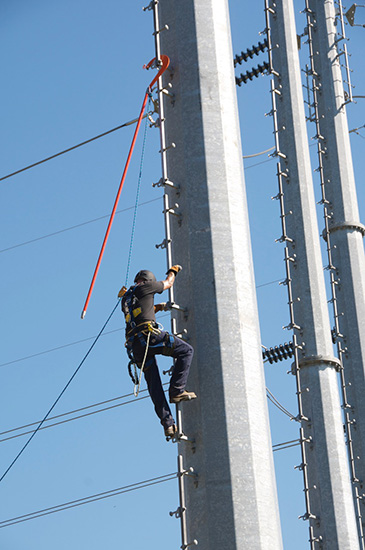 Left: Sacramento Municipal Utility District transmission line workers performing rescue off the hot end of 500kv dead end insulators during RTR program. Middle: Sunflower Electric (Kansas) line transmission line workers using skate block rescue off 345kv dead end strucrure during 5 day RTR tower rescue program. Right: Transmission line worker using advance-placed shepherds hook to climb tubular steel poles in California during Sacramento Municipal Utility District RTR program.


RTR has trained:
Public Service Electric & Gas, NJ
Hetch Hetchy Water and Power (City of San Francisco), CA
Sunflower Electric, KS
Pacific Gas & Electric, CA (Towermen in rope access for all grids)
Pacific Gas & Electric, CA (Linemen Trainers at Livermore Training Center)
Georgia Power Comany (Line Trainers at Klondyke Training Center)
Southern California Edison Company (Trainers at all seven grids)
Los Angeles Dept. of Water and Power (all transmission linemen in California, Utah and Nevada.)
Con Edison, NY
NSTAR, CT
Orange & Rockland Utilities, NY
Vermont Electric Transmission, VT
New York Power Authority, NY
Northwestern Energy, MT
Tucson Electric Power, AZ
San Diego Gas & Electric, CA
Bonneville Power Administration, WA
Consumers Energy, MI
Salt River Project, AZ
Sacramento Municipal Utility District, CA
Electrical Trust of South Australia, Adelaide, South Australia
Fall protection mandated by OSHA 1910.269 as of April 1, 2015
Transmission linemen
Power company radio communications tower workers
Tower maintenance workers
Substation workers
Hot stick maintenance crews
Safety personnel
Supervisors
Those working on mid span conductors