Mountain Rescue Workshop

MRW Key Points

Details

Photos
Canyon Rescue Workshop

CRW key points

Details

Photos
CANYON RESCUE WORKSHOP -
(Contact us at info@ropesthatrescue.com for details and next offering. You may see Current RTR Open Enrollment Schedule for when/where this program is offered)
BY INVITATION ONLY. NO TUITION REQUIRED. We are pleased to offer a rescue rigging program in southern Utah's beautiful canyonlands and slot canyons. The Canyon Rescue Workshop is specifically designed for the Southwest's sedimentary canyon plateaus and slot canyons (Arizona/Utah/Nevada/Colorado). This intensive program focuses on both personal and team-oriented skills. The Canyon Rescue Workshop is a hands-on workshop stressing a minimalist approach to canyonland rescue procedures and teaches the access, stabilization and extrication of patients involved in canyoneering and mid-face free climbing accidents. Students will design and build system anchors from bolts, pitons, sand picket systems and active and passive rock climbing camming devices. Strong emphasis is also placed on wilderness improvised techniques where specialized or heavier equipment has limited application. The CRW is designed for the serious search and rescue rope practitioner or park ranger wishing to improve their personal and team rigging skill and is designed for rescuers and teams with every type of possible terrain (including slot canyons common to the Southwestern US) from which a potential victim must be retrieved. Lectures on relative rescue subjects or physics are common throughout the duration of this workshop. Students, as a team unit, learn how to build seemingly complex arrangements for reaching, treating and extricating a patient from the extremely confined canyon environment. Many of these solutions involve high angle offsets and highlines however all do not. All the while, emphasis is placed on building everything from the basic materials most teams will have along: rope, carabiners, pulleys, accessory cord, webbing and know-how. Also extensive use of the Arizona Vortex artificial high directional during this program.
Participants must be in good physical condition. Wet suits/dry suits required for participants wanting to venture into wet canyon environments during the CRW. All canyoneering practices will be on minimum two points of contact (main and a safety) during this program.
NOTE: Wilderness camping or car camping is available at our slot canyon venue. Porta-potty and full kitchen available with stoves and fresh water but arrangements must be made in advance of the class. This will involve a small cost if you participate which will be shared by the participants. Those wilderness camping must bring tent or other shelter. Many of the mountainous locations in the canyonlands where we hold our practical sessions are far removed from the trail head and often involve a rigorous hike at elevations exceeding 5,000 feet. Some hikes are more than a mile in length and on cross country routes.
Camping REQUIRED for participation in this ALL VOLUNTEER PROGRAM.
Slot canyon rescue (confined space problems)
Knotcraft
Sandstone anchoring
Improvised anchoring
Comparison between high angle offsets and highlines

High angle offsets for canyon rescue:

Tag lines
Guiding lines
Tracking lines
Skate blocks
Deflected
Two rope (pendulum)
Complete rescue highlines for canyon rescue:

Standard transportation-type highlines
Drooping highlines
Reeving highlines (for varying trackline angles)

Highline/offset logistics and teardown
Simple, Compound and complex pulley systems
Various pilot and messenger delivery systems
Methods of locating the canyon access team and casualty within an incised slot canyon
Standard and advanced artificial high directionals:
Hot loading (with patient in litter) double carriage litters on steep angle highlines
Single, twin and quad trackline highlines (as time permits)
Much more..
7 Days - Invitation ONLY. The CRW is all volunteer and there are no fees for this program.
Upto 12 Students
Strenuous
10 to 12 hours per day
Classroom 30%, Practicals 70%
Significant lecture time during each evening
Camping is required for minimum 3 days
Prerequisites: Prior rope and canyoneering experience REQUIRED
Please submit name, contact information and canyoneering experience resumé to info@ropesthatrescue.com
Find out when and where CRW is offered: See Schedule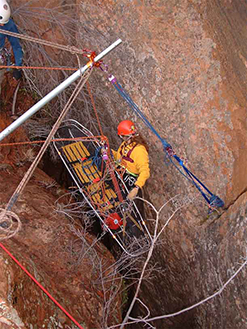 Above, CRW participants perform multiple rope evolutions using "offsets" learned from earlier programs with RTR before moving into advanced highlines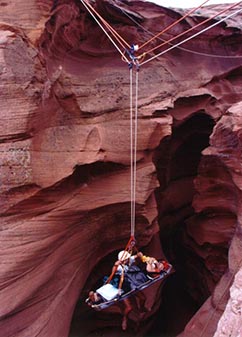 An English Reeve highline being used to extricate a rescue package from the depths of a 150 ft deep narrow slot canyon in the Antelope Wash in Arizona